When considering the colder season, you might safely predict that the forecast for fall nail colors would feature a tried-and-true mix of black, bright red or navy. But if you truly want to embrace what's trending, there are more adventurous tints to turn to when lacquering up. It's all about opting for a shade less ordinary and adopting a fresh color update that's a real headliner. So, without further ado, we uncover the top fall nail colors and designs that will take your nail game to a whole new level.
Fall Nail Colors
1. Creamy Blue Nails
During the last few fall to winter seasons, you could say that blue has become the new black. And the trends reveal that this autumn is no exception. For this, we can thank the elegant versatility of galaxy and midnight blue as critical shades. But as the chill starts to set in, we suggest you try a lighter more dreamy mani before plunging into the deep end of the spectrum. You'll adore how this creamy blue mutes down to look powdered and neat. A shade like this wears as soft as a cloud. It's also perfect for doubling with chambray or white denim; and will give a new lift to your office outfits. Whether you're blonde or brunette, a set of creamy blue nails will look great on any nail shape and will start your autumn day on the right track.
2. Soft Red Nails
Juicy reds are rocketing up the style charts this fall. But why is this news? You'll notice that the most delicious red nails of all, favored by discerning fashion folk, are gentle on the eye and more romantic in their undertones. We're not suggesting that chilli pepper and other bold reds don't have their place. But for a more modern, up-to-the-moment look, a mouthwatering set of cranberry nails or a drop of claret, have found their way to the top of our color picks. Remember, you can extend any shade to your lips to accent the beauty of your hands. Soft red is a color that works just as well on short nails, long claws or a pout. So the only question is, how red-dy are you?
3. Royal Dark Teal Nails
In right royal fashion, striking teal has been rocked by the duchess herself, Meghan Markle. From the realms of the Egyptian Pharaohs to the Aztecs, royal teal has been a sought-after shade since forever and a perfect color choice to refresh your nails this season. Lighter teal and turquoise are seen as a summer nails hue, and this rich dark jewel tone is tracking as one of the coolest manicures for fall. For best effects, team your turquoise nail design with black or soft neutrals like sand or tan. Opt for the Cleopatra treatment at your next salon visit and lavish your fingers with on-trend turquoise.
4. Milk Chocolate Nails
These tantalizing talons look good enough to eat! Be tempted by this gorgeous mid-tone brown, and you'll be transported back to the 70s when this shade was at its peak. We love the revival of the trend as a nail color this time around. A comeback color that's not only sweet, but also a tad luxurious, and adds a definite bite when coordinating with your lighter neutrals. As the temperature drops, this hot chocolate nail hue will work a treat with cozy woolens and as a complement to brown leather boots. Always sumptuous and never dull, a milk choc mani is sure to shake up your style.
5. Glossy Fuchsia Nails
A fuchsia manicure is the epitome of glamour. Blooming with exotic allure, this enchanting nail color will remind you of a corsage of orchids, introducing a flash of hothouse flair to your fall. The vibrancy of fuchsia will not only enliven your nails; it will also elevate your mood. Perfect for coffin or almond shape nails, in this super glossy finish, fuchsia shade is set to become a new autumn classic. You'll feel like you've just escaped to the tropics!
6. Light Grey Nails
One of the most refined nail colors of the season is a frosty, washed-out grey. We're gaga about it in a matte finish which shows off this graceful hue to an almost silvery perfection. Being an understated shade, your light grey nails will look equally elegant at a business meeting or at a wedding. Less austere than darker tints, this manicure looks divinely feminine in an almond design that's finely squared at the tips. Partner your light grey nails with solid black tailoring to heighten a sense of drama; or amp up the class by pairing them with cool white to bring out a timeless appeal.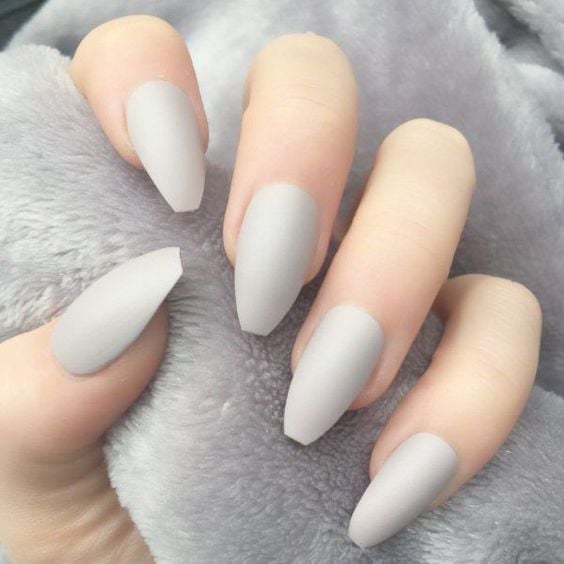 Get the Look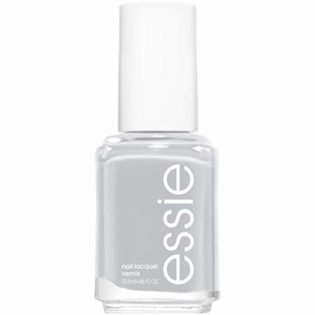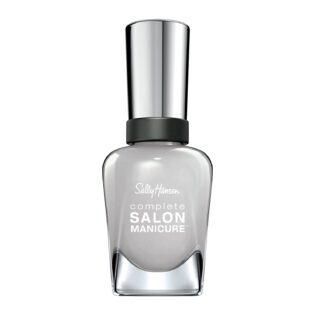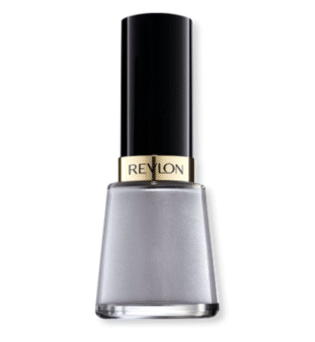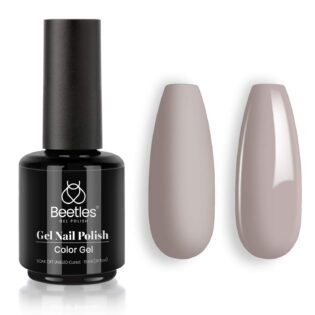 7. Glitter Nails
Sprinkle round the glitter this fall to spruce up your nails in spectacular style and add a 3D effect. From cocktails to festive occasions, sparkly nails are a brilliant way to show off your hands to the hilt. There are so many shades to choose from, but we love this gold glitter polish on the feature nails combined with nude and solid gold on other fingers. Your jazzy hands will dazzle brightly when accompanied by a little black dress. Or go the full diva and accent with a silver metallic bag or sequinned blazer. As a nail design, a glitter mani sets the stage for unadulterated fun and is sure to add a dash more glitz to the good times.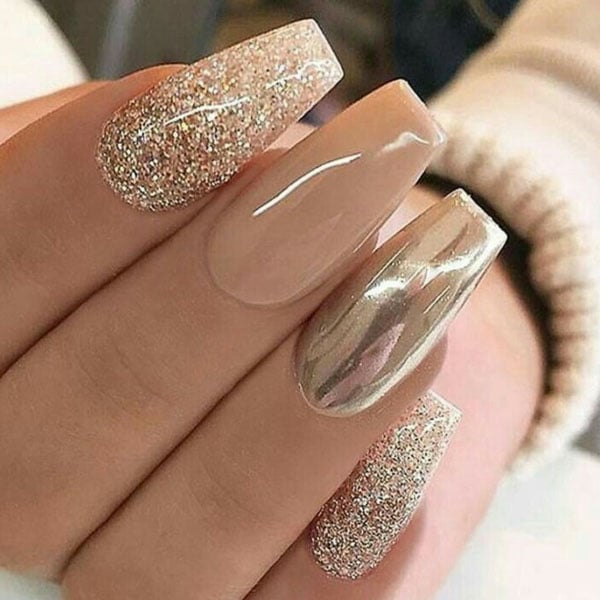 Get the Look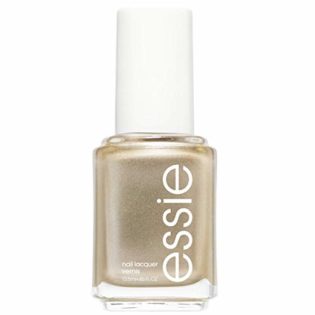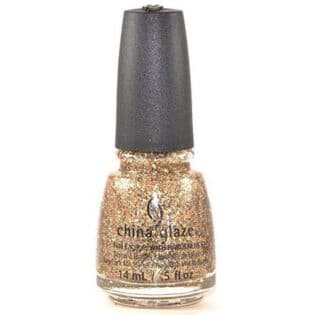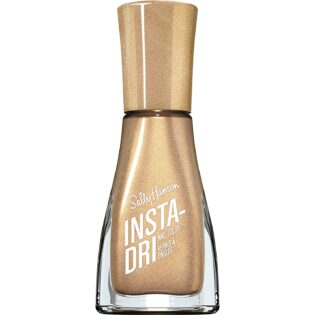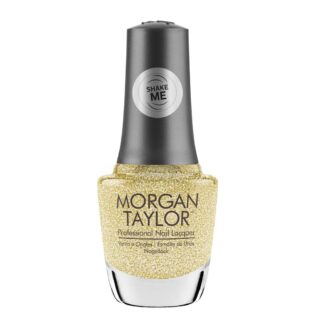 8. Sand Nails
The whispery shade of sand is possibly the most surprisingly polished nail color on our list. Don't let the beige appearance fool you; this is one nude not to be overlooked this fall. With a subtle range of undertones, from custard to grey mist, this new neutral is for the consummate sophisticate who always looks pulled together with minimal fuss. The popularity of sand comes from its ease of effort – it's simply so versatile to wear in almost any environment – yet still manages to look extraordinary. Whether you have porcelain hands, or tan or olive skin, sand color delivers an iconic mani that's flattering on everybody.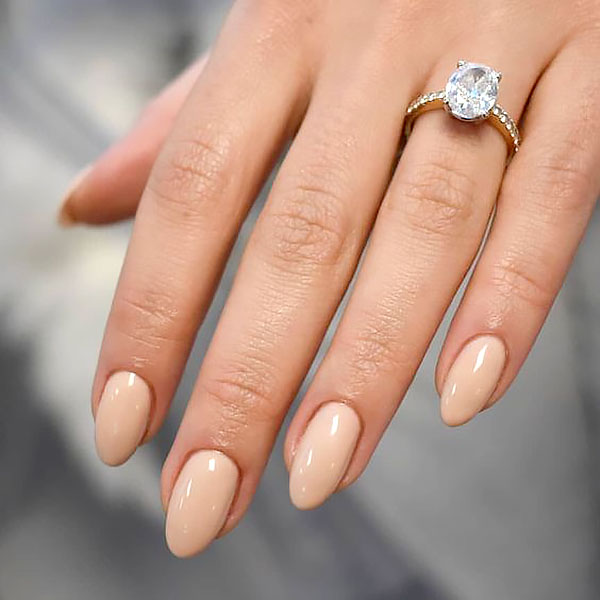 Get the Look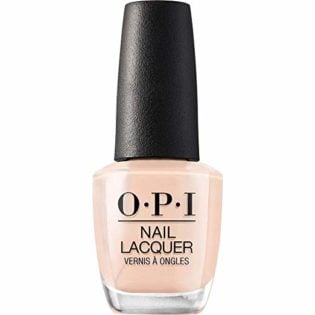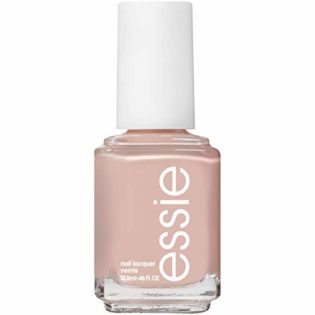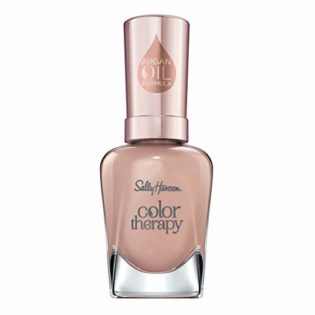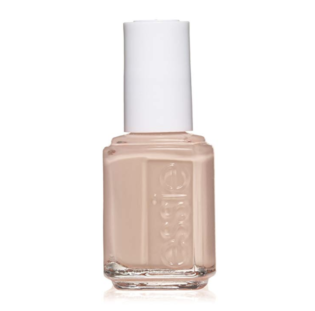 9. Ombre Nails
Ombre shading is a gorgeous way to wear your favorite nail colors with ultra-cool style. A beautiful soft gradient will give a whimsical twist to your standard manicure, especially when designed with fall's favorite colors. This muted mauve polish is at the height of current fashion. Work it into an ombre with red to create a standout feminine look that will have you doubly in vogue. Try some of the least likely ombre nails combos of the season by fusing moss with emerald green, or tiger orange with dark cheddar. You're only limited by your imagination – and just a set of nails away from being a knockout!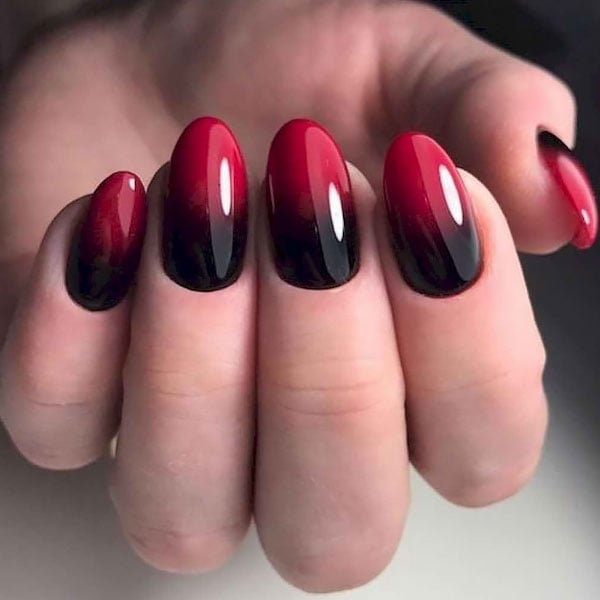 Get the Look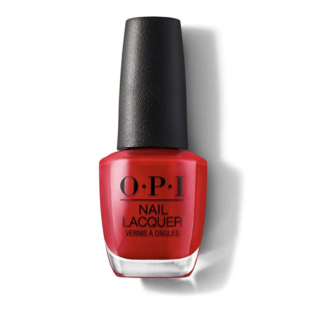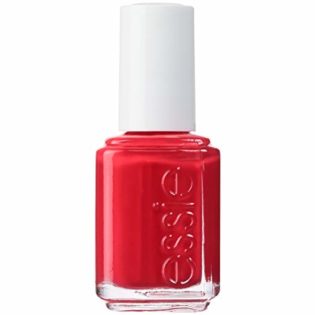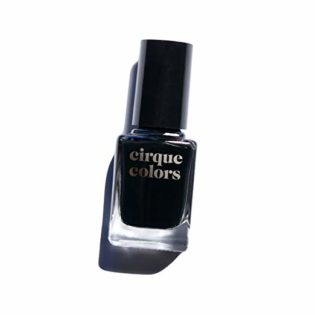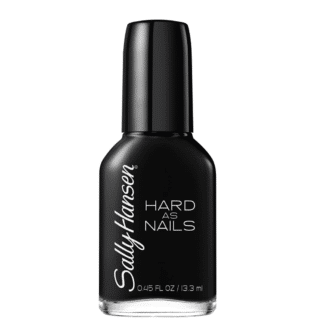 10. Holographic Nails
Finally, the least predictable and perhaps most breathtaking nail design of the set. Since Gigi Hadid first rocked her chrome pinkies at the Met Gala, this shiny holographic nail look has continued to rise in popularity. Overtaking straight metallics it's easier to achieve than it looks. Reflective pigments can be layered upon your regular varnish to give this mani its mirror finish. Try a more polished version of this trend in reigning purple; it subtly glows with a delicate shimmer rather than has a full-on futuristic feel. As stunningly arresting as ever, it's slightly less outré than wearing a whole holo of rainbows. But no matter how far you want to push it, the holographic sheen is one trend that won't be outshone.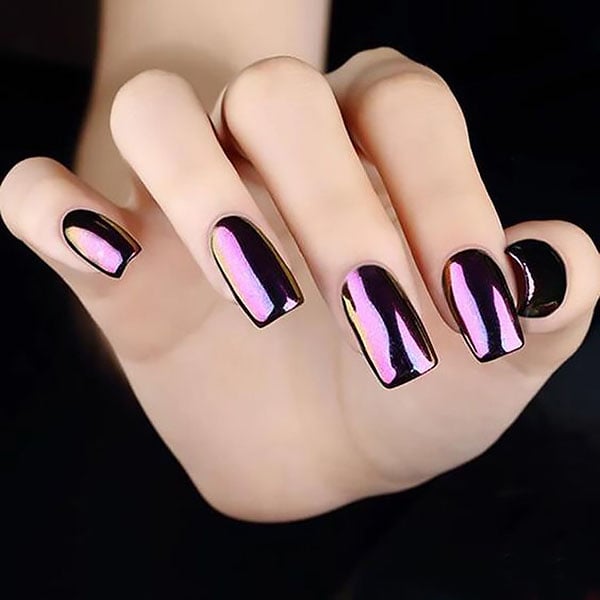 Get the Look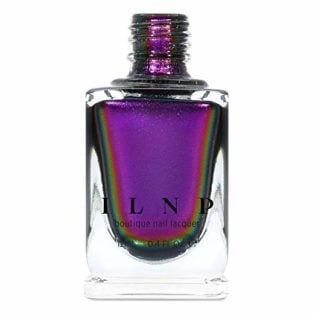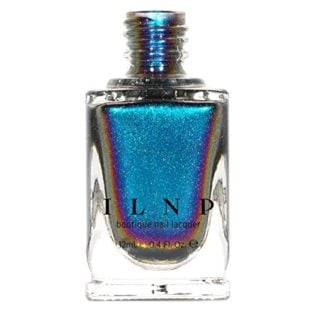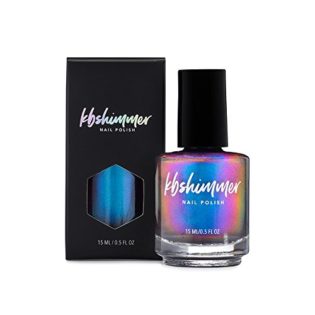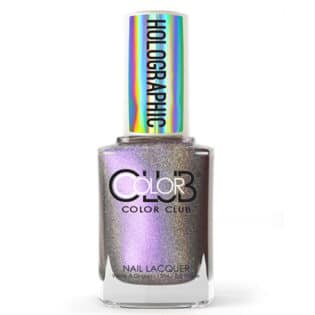 11. Olive Green Nails
Olive green is a gorgeous shade of greyish-green that makes for a stunning and easy-to-wear manicure. The color is not so bold and bright that it is hard to wear and can pair well with multiple colors. This includes maroon, tan, beige, purple, and red. You can also play around with the finishes, opting for matte nails or a glitter lacquer for a feminine touch. There is so much to love about this hue, and it will lend itself well to many nail shapes. Plus, it can also represent peace and harmony.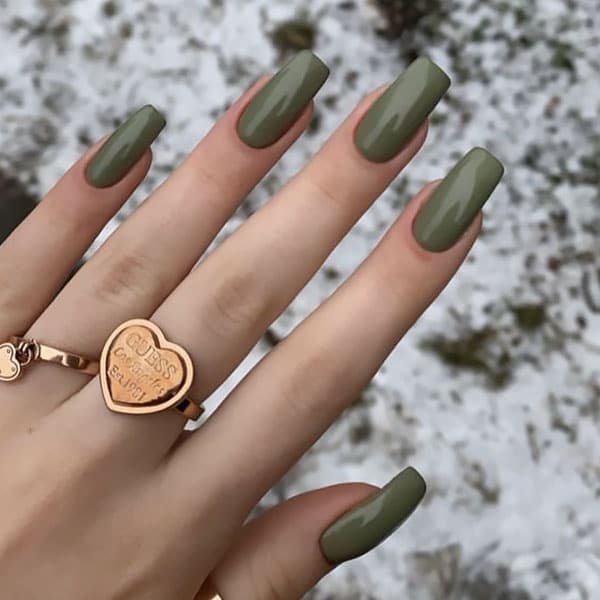 12. Mustard Nails
Mustard is a dark yellow color that is easier to wear than brighter shades. It can be a cheerful addition to your nail art and has an energy to it. It is also an excellent way to brighten up your day and your appearance. In addition, mustard also has a warmth to it, making it a popular choice for nail art and a great color for autumn. Pair it with your favorite mustard clothes to make a statement, or tone down your look and let your nails be the focus by wearing neutral colors.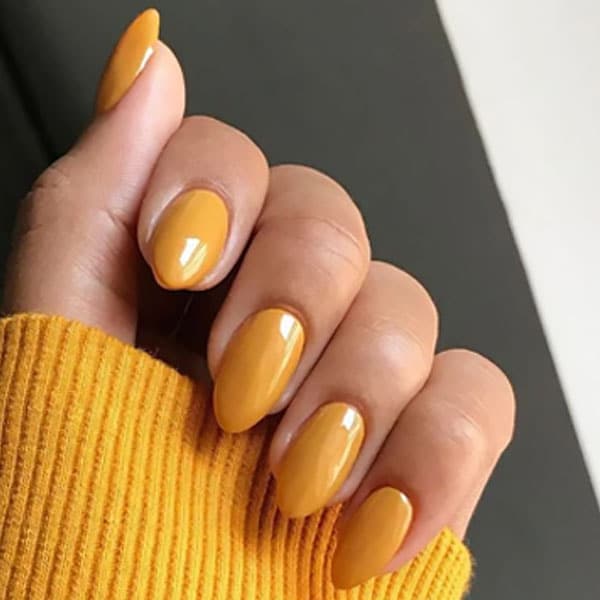 13. Dusty Pink Nails
When deciding on the perfect color for your manicure, consider several things, including whether it will match your skin tone. Plus, it is easy to wear and on-trend. The great thing about dusty pink nails is that it is a timeless and classic hue that can be worn all year round and will lend itself well to a variety of different occasions, including more formal ones. It is best described as a subtle shade of pink, which has a delicate and soft appearance and is close to a pastel color. It can work with all nail lengths and shapes. For a matchy-matchy look, you can make a statement by opting for the same shade of lipstick.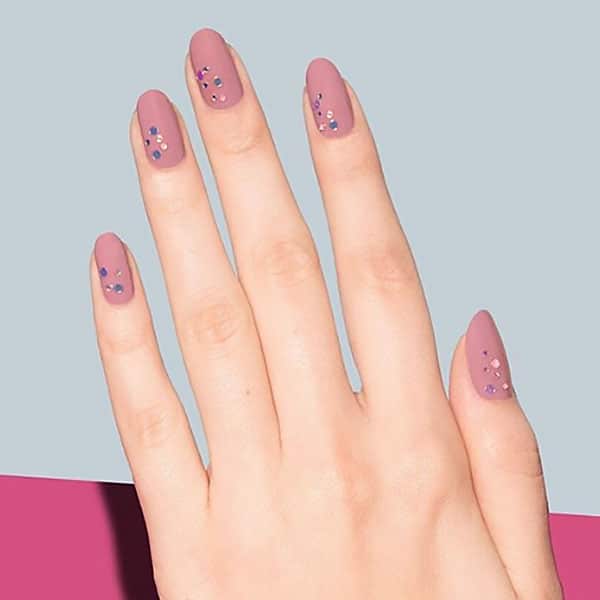 14. White Nails
White is a timeless choice for nail art, and it will never go out of style. In addition to giving your nails a clean and crisp appearance, it is also a color associated with purity, innocence, and new beginnings. It is a wonderful hue because it matches everything and is easy to wear. It is universally flattering, and it suits all skin tones. This should be a welcome addition to your fall nail polish collection because it is a color that can be worn to both casual events and more formal ones. There are also multiple ways to wear white nails, including the classics like a French tips manicure.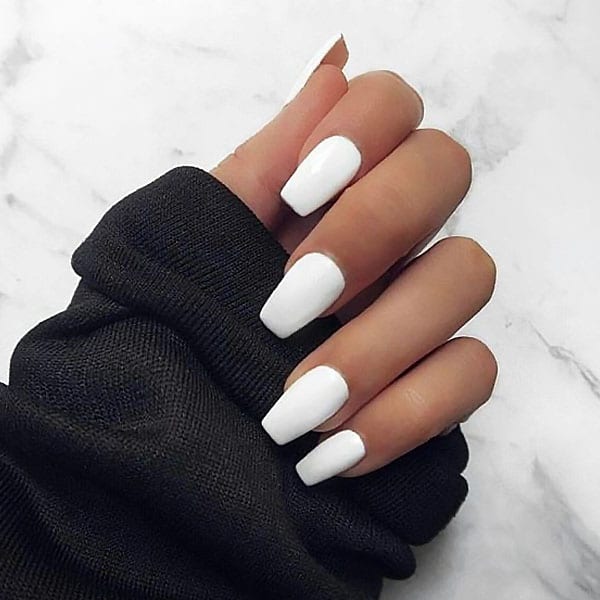 15. Pastel Orange Nails
Pastel orange is one of the most gorgeous, soft colors to try out. The shade is light and pretty and is easier to wear than brighter, bolder tones. Orange is associated with warmth, joy, and determination and is a beautiful hue to wear on its own or paired with exciting nail art. To make the color stand out, you can paint a white base coat beforehand to let the color pop.
SHOP: PASTEL ORANGE NAIL POLISH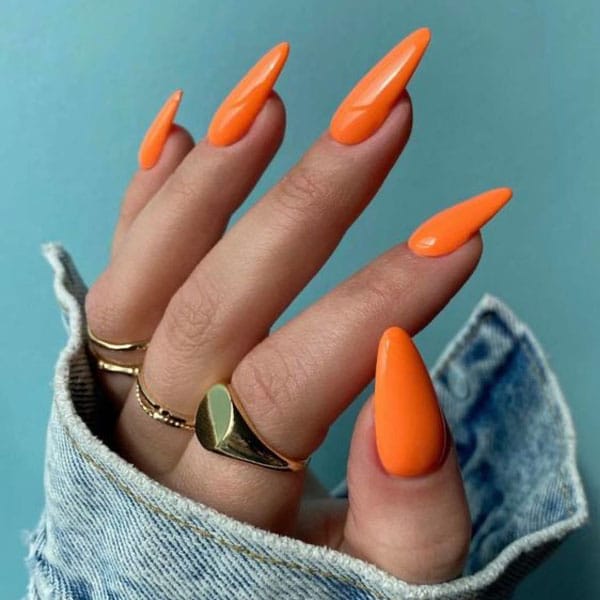 16. Bright Orange Nails
Bolder than pastel orange, bright orange is a fantastic choice for the woman who wants to make a statement. It is associated with sunshine and creativity and makes even the simplest manicure look fun and daring. Paint each fingernail with a solid shade of bright orange. Or opt for a fiery look by adding red and yellow. It is an exciting choice for the Fall and can make you think of the colors of the leaves, and will look great when paired with your chunky knits and soft sweaters. If you are looking for colors to pair with it, blacks, whites, nudes, and beiges are fantastic choices. If you have skin with a neutral undertone, this is a perfect choice.
SHOP: BRIGHT ORANGE NAIL POLISH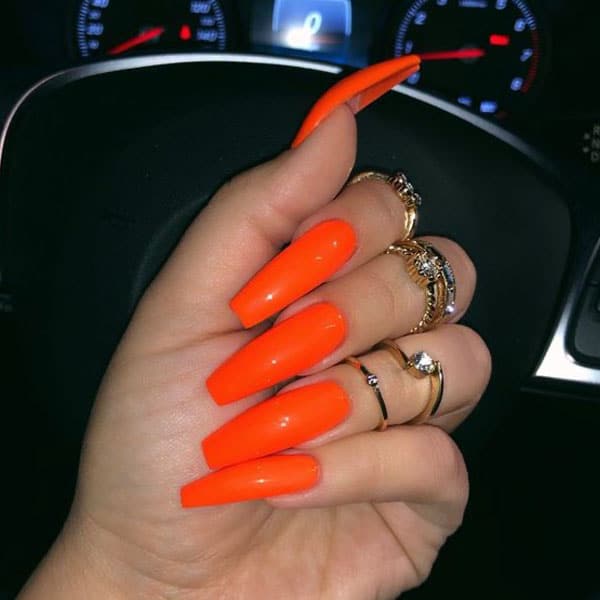 17. Plum Nails
Plum is a deep shade of reddish-purple that is often associated with sophistication. It is a gorgeous color that is perfect for various occasions, including more formal ones because it is not so bold that it demands attention but is still stylish. It looks best on women with pale skin tones and can be mixed and matched with your favorite rich shade of lipstick.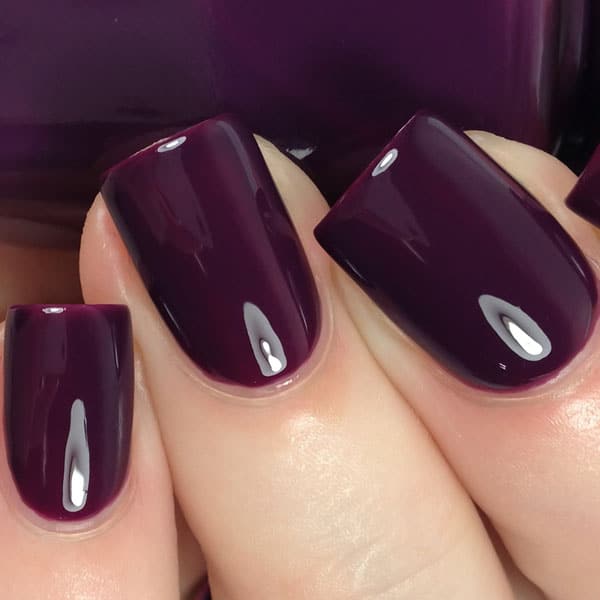 18. Lilac nails
Lilac is a pretty and easy-to-wear color because it is soft and pale. It is a light shade of violet and is often used in wedding events or formal occasions because it is so feminine and easy to mix and match. It also symbolizes love and devotion, so if you want to make a subtle statement with your nails and tell your loved ones you care about them, this could be a sweet option. Lilac also pairs well with florals; get creative with your nail art and use it as a base tone for little flower details. You could experiment with negative spacing, lilac French tips, or paint the entire fingernail with this dreamy hue.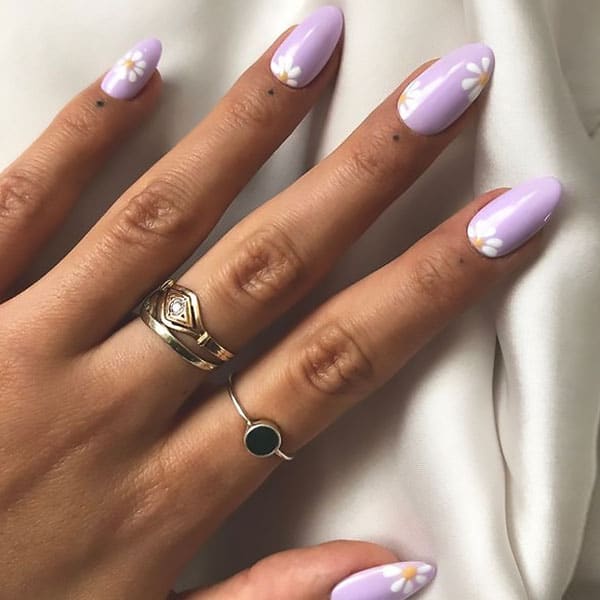 19. Eggplant Nails
Eggplant is the perfect color for Fall. It is a rich dark purple-brown color that is a fantastic alternative for women who want something different. It is a color that is easier to wear than black and not quite as soft as pinks and lilacs. Not only is it versatile, and it will pair well with nails of different lengths and shapes. It also doesn't need a lot of fancy nail art to get your fingers noticed. Opt for a matte or glossy finish, or paint a little shimmery polish over an eggplant base coat for those who want to add some sparkle to their appearance. It can work well on women with light and dark skin and could be your new go-to hue.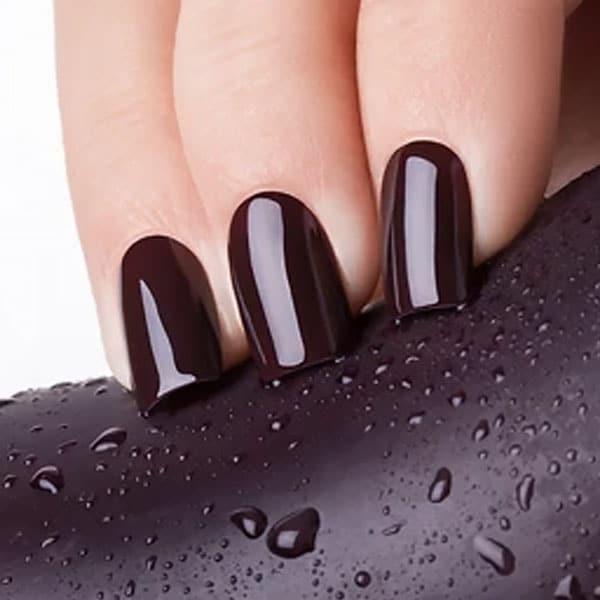 20. Dark Blue Nails
Dark blue nails are a rich shade that is often associated with luxury and elegance. It is a fantastic color for nails and will give your hands a fun update. Nail art in lighter shades or in silver and gold looks great with this shade as a base color. When it comes to styling, you can wear solid, neutral tones and let your manicure be the focus of your appearance.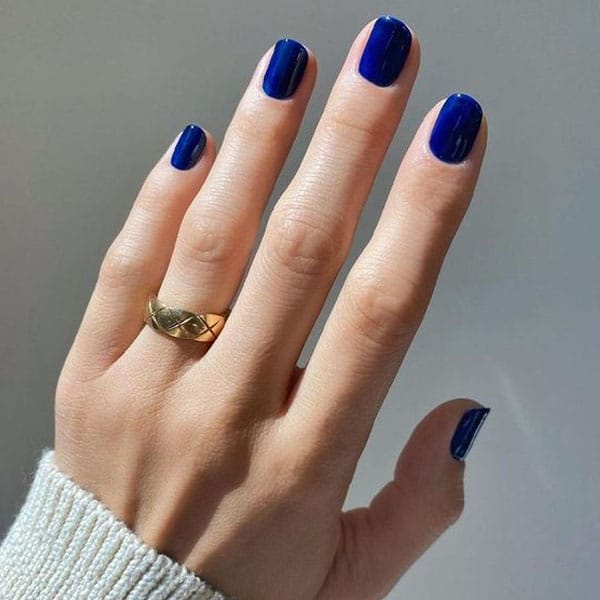 21. Blush Nails
Blush is one of the prettiest nail colors for fall. It is a medium tone of pink and is universally flattering on women of all ages and skin tones. Not only that, but this is a great color regardless of your nail length and shape and can be worn anywhere, including more formal events and the workplace. It is an easy-to-style hue, and the muted color allows you to play around with added details. Or ditch the details and nail art and embrace the beauty of simplicity.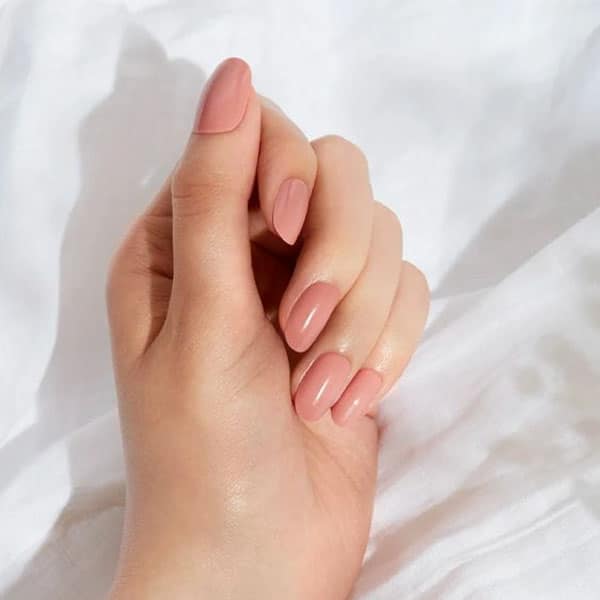 22. Black Nails
Black is a color that demands attention. It is a daring shade, but it has long been a favorite because it is unmissable and looks good with everything. The hue is associated with sophistication, power, mystery, and style and is excellent on its own or as the base for nail art and interesting details. The beauty of black nail color is its versatility, and there are many ways to try it out, allowing you to find something to suit your personality. That said, black has a slightly rebellious feel and is worn by women who want to get their hands noticed. Although this is fantastic for fashion-forward events and date nights, it may not be suitable for a corporate environment.
23. Dark Brown Nails
Black is a color that can demand attention and get your hands noticed, but it can also be hard to pull off. If you love the thought of dark hues but want something more wearable, let us introduce you to dark brown. Simple and elegant, the color is associated with nature and strength and is a gorgeous shade that will pair with anything. It is an excellent hue for fall and can be paired with white, black, creams, lighter browns, and even burgundy if you want to mix it up. Although brown can be worn on nails of all shapes and lengths, it looks best on longer nails.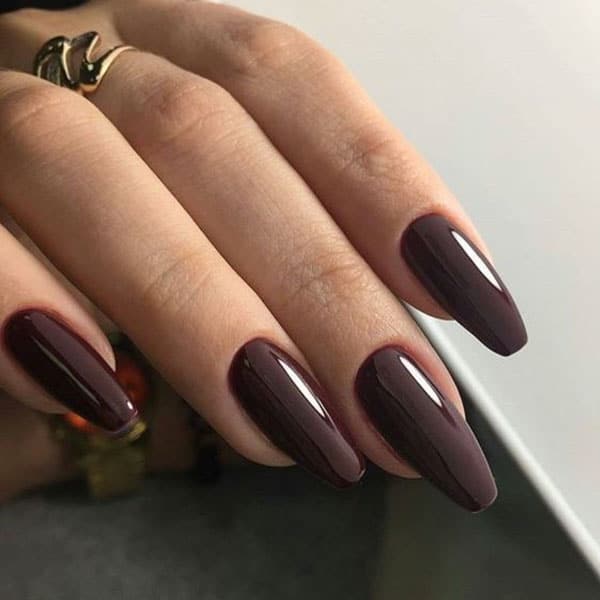 24. Gold Nails
Gold is a color that goes well with everything. From gorgeous detailings to a solid hue painted onto your fingernails, the look has so much versatility. It also creates an incredibly luxurious appearance and is often associated with wealth and even love. Play around with negative spacing, opt for a gold French tip manicure, or recreate your favorite shapes with gold coloring. You can reserve this hue for special occasions or wear it every day, but there should be no stopping you from trying it out.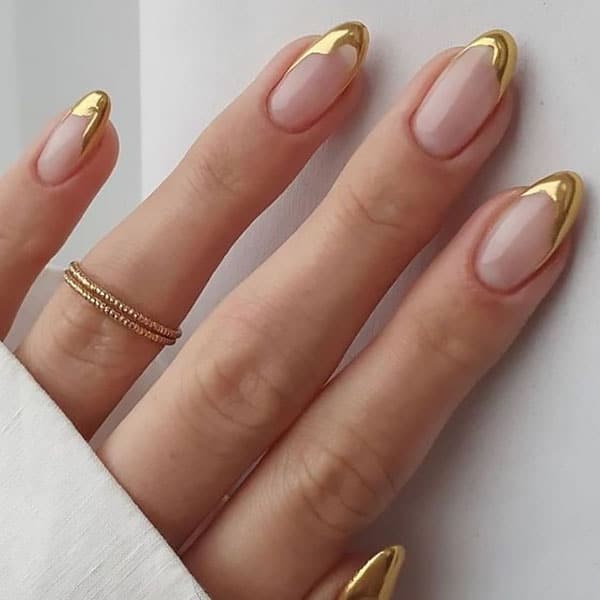 25. Beige Nails
Beige is a neutral hue, making it easy to wear and incredibly flattering. You don't need to have long nails to pull it off either, and because it is so subtle, it can be worn almost anywhere and with anything. It is associated with simplicity and calm but can also be exciting, depending on how you wear it. As a solid color, it is gorgeous and looks great when worn with chunky jewelry to draw attention to your hands. However, the shade pairs great with brighter and bolder colors. You could have fun mixing and matching or opting for a beige base with colorful detailing.